<![if !supportEmptyParas]> <![endif]>
Wheels with Ed Wallace Sponsor Exclaims Disbelief That California Laws Protects Consumers, Not Car Dealers

2021 November 1
In the October 23, 2021 edition of Wheels, Ed Wallace recounts the tale of how auto manufacturers are able to address bad dealers in California in a way that cannot be done in Texas.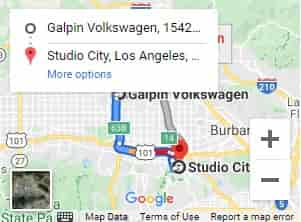 Galpin VW: Not One Exit North of Studio City
As ♫ Wallace tells it, the Volkswagen dealer in Studio City, CA had a very poor consumer satisfaction index rating, so Volkswagen awarded a franchise to a second dealer (Galpin) north of Studio City.  At this point, one should question anything being told in Wallace's yarn about Galpin Volkswagen infringing upon an existing dealership's territory, as the short tale has multiple obvious flaws.  Web searches found no evidence that a Studio City VW dealer existed when Galpin VW opened in 2012 in North Hills, CA.  However, there was a dealer called Van Nuys Volkswagen in Van Nuys, CA that existed until around the year 2020, after which was folded into New Century Volkswagen in Glendale, CA.  Assuming that Van Nuys Volkswagen is the Studio City Volkswagen dealer to which Wallace is referring, the claim-to-reality table on the anecdote is as follows:
Ed Wallace Claim

Reality

A Volkswagen dealer existed
in Studio City, CA when Galpin Volkswagen opened.

Van Nuys Volkswagen was located at 6115 Van Nuys Blvd, Van Nuys, CA.  Van Nuys is about 4 miles from the closest border to Studio City.

On the 405, Galpin VW is one exit north of the exit that one takes to reach the purported pre-existing Studio City Volkswagen dealer.

On the 405, Galpin VW is three exits north of the exit (Victory Blvd) that one would have taken to reach Van Nuys VW.  Van Nuys VW was not on the 405, but located three miles east of the 405.

Galpin Volkswagen is a quarter mile apart from purported pre-existing Studio City Volkswagen dealer.

Galpin Volkswagen is about 4 miles apart from Van Nuys Volkswagen. 
<![if !supportEmptyParas]> <![endif]>
Putting aside the inaccuracies of the anecdote, it is interesting how ♫ Wallace highlights the difference between Texas and California, where the Texas law constrains the auto manufacturer's ability to serve its customer.  Upon hearing that the manufacturer franchised a competing dealer in close proximity to a bad dealer, General Manager David Elattrache of Huggins Honda, a Wheels sponsor who was in studio with Wallace, exclaims "Unbelievable.  At least the consumers are being taken care of."  Ed Wallace readily agrees with Elattrache that the consumer was being better served by the manufacturer's addition of the dealership, something that could not have happened in Texas.  This, of course, runs counter to what was said on October 9, 2021 edition of the Wheels, where Wallace asserts that the restrictive Texas auto dealership laws exist to protect the consumer.  Because of those laws, Texans cannot purchase a Tesla vehicle from a local Tesla-owned dealership.  And Wallace is fine with that, as it bolsters his sponsors' prospects of compelling Tesla, by force of government, to franchise one his sponsors as a dealer.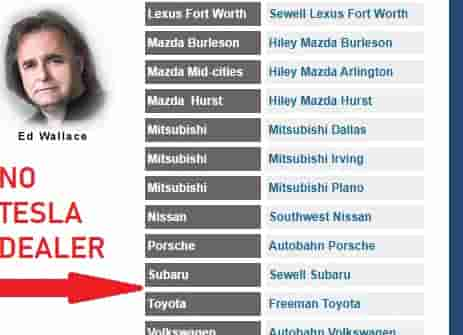 Ed Wallace: No Tesla for you.
To conclude, Wheels' sponsor Elattrache expresses disbelief that California's new vehicle consumers are being "taken care of" because of the auto manufacturer supplanted a bad dealer.  Hence,  Wallace promotes the more restrictive Texas law that limits how manufacturers can serve their consumers.  So, it's not about protecting the consumer.  Wallace prefers laws that force a franchised middleman upon consumers, that middlemen being his sponsors.  Wallace serves one master.  It's not you.
<![if !supportEmptyParas]> <![endif]>