<![if !supportEmptyParas]> <![endif]>
Ed Wallace's Inside Automotive Promotes False 'Rein of Terror at the Border' Narrative
2021 September 22
2021 September 23 (update)
The September 21, 2021 edition of Inside Automotive headlined a false narrative.  On his link aggregation site, Ed Wallace adulterates the top link by changing the Guardian's article's title from "White House criticizes border agents who rounded up migrants on horseback" to "Rounding Up Haitians With a Horse and Whip".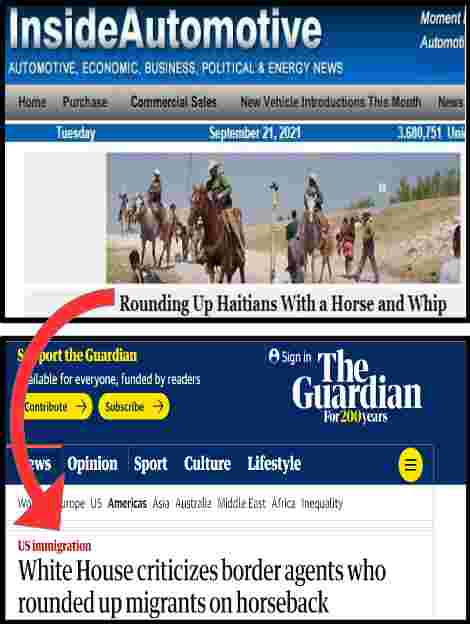 Guardian Title Changed to False Narrative.
Border agents do not carry whips.  The straps are long reins with which to control the horse.  But facts do not matter to Ed Wallace, so now these standard-gear horse reins are tools for a reign of terror.  To whip his readers into a frenzy, Wallace trades in the false narrative of 'whips'.
Lets take a moment from rock & roll history and allow DEVO's Whip It to set Ed Wallace straight.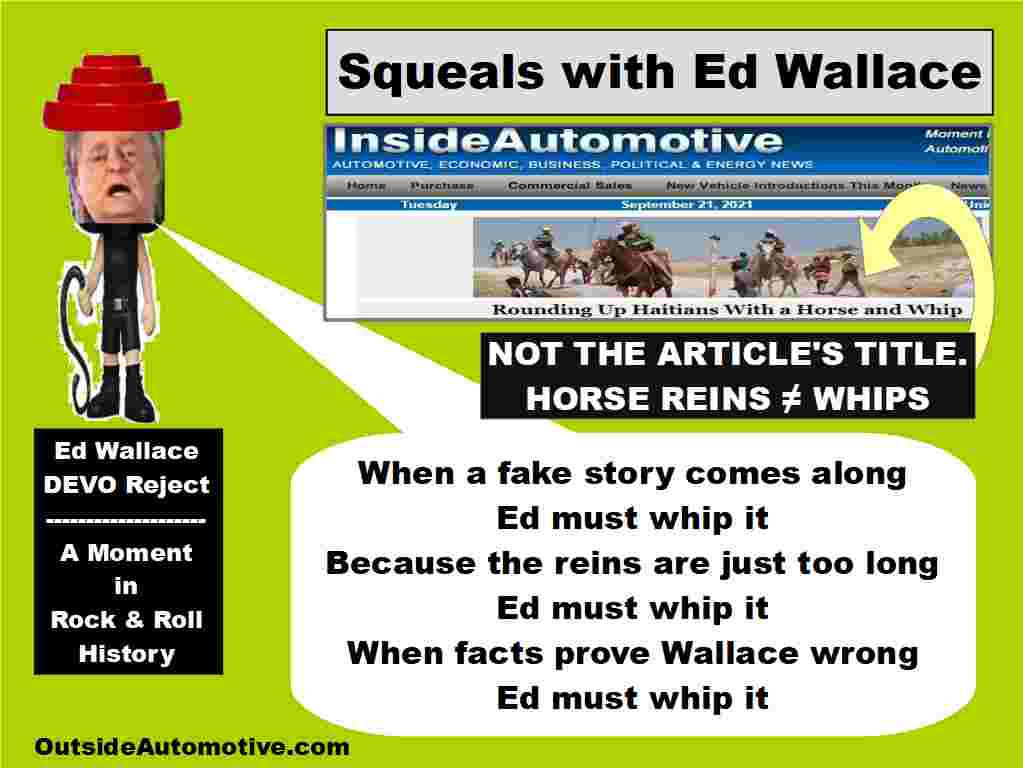 Ed Wallace: Whiplash.
<![if !supportEmptyParas]> <![endif]>
UPDATE (2021SEP23)
The September 23, 2021 edition of Ed Wallace's Inside Automotive links yet again to the 'rein of terror' narrative.  This time, Wallace implicitly concedes that there were no whips by pushing an altered narrative with the link label "Border Patrol Uses Reins Like Whips".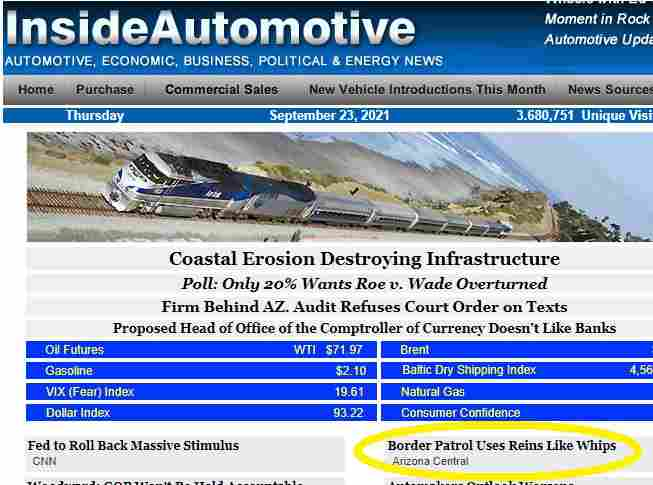 False Narrative Version 2.0.
To substantiate that narrative, Ed Wallace links to a news report that presents evidence of that novel assertion.  No, sorry, that would be ethical conduct which is not Wallace's modus operandi. Instead, Wallace links to an OPINION piece by open borders partisan Elvia Diaz, whose twitter account has the tagline "Immigrants (We Get the Job Done)" and consists of numerous tweets promoting the open borders position.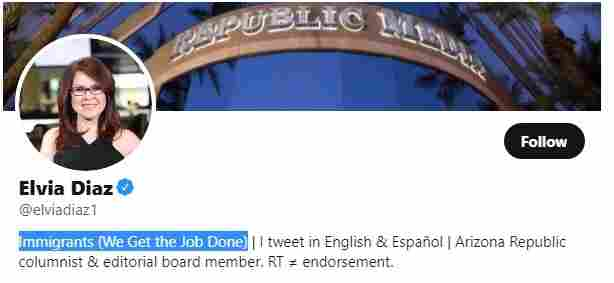 Elvia Diaz: Open Borders Advocate.
In stark contrast to Wallace's linked opinion piece, KTSM interviewed Paul Ratje, the Las Cruces, New Mexico-based photographer whose images ignited the firestorm over the use of reins.  Ratje was standing on the Mexican side with an unobstructed view of the events.
From KTSM: "I've never seen them whip anyone," Ratje said. "He was swinging it, but it can be misconstrued when you're looking at the picture."
<![if !supportEmptyParas]> <![endif]>
Unlike KLIF, KTSM employs actual reporters who investigated further:
<![if !supportEmptyParas]> <![endif]>
Given Wallace's prior retaliation against a generational rancher making assertions that conflict with his false narratives, Outside Automotive advises generational rancher Kerr Wardlaw to prepare for if and when his date of birth, family member names, gender history, parental funeral website condolence entries and other identity theft inputs are broadcasted to the KLIF audience.
To conclude, Ed Wallace finds a variant false narrative to replace his original false narrative.  And with that new narrative set, proceeds to whip it.  Whip it good.