<![if !supportEmptyParas]> <![endif]>
Ed Wallace's Wheels Ignores Sussmann Trial, Just Like the Mainstream Media

2022 May 23
The felony trial in federal court of former Clinton campaign lawyer Michael Sussmann began on May 16, 2022.  Sussmann is charged with lying to the FBI when passing false, derogatory information about Trump.  The FBI claims Sussmann stated that he was doing so on his own behalf while actually representing a client (the Hillary Clinton Campaign).
This is a significant case.  It involves a top Democratic National Committee law firm Perkins Coie.  Just this week, the witness stand hosted powerful D.C. persons such as American Democratic Party elections lawyer Marc Elias, former FBI General Counsel James Baker, and Hillary Clinton's 2016 campaign manager Robert Mook.
One of the most interesting revelations was from Mook, who exposed 2016 Democratic presidential nominee Hillary Clinton's direct participation in pushing the fake Trump/Russia allegations to the media.
As reported on Technofog's "The Reactionary", Mook testified in court to the following about Hillary Clinton:
<![if !supportEmptyParas]> <![endif]>
Q: Mr. Mook, before the break you had testified that there was a conversation in which you told Ms. Clinton about the proposed plan to provide the Alfa-Bank allegations to the media; is that correct?
<![if !supportEmptyParas]> <![endif]>
A: Correct.
<![if !supportEmptyParas]> <![endif]>
Q: And what was her response?
<![if !supportEmptyParas]> <![endif]>
A: All I remember is that she agreed with the decision.
<![if !supportEmptyParas]> <![endif]>
Despite being a major, important story involving big names, the mainstream media has avoided reporting any of the above.  And, Ed Wallace saw their lead and obediently followed it.  There was no mention of the Sussmann trial during Wallace's 5-hour radio program.
Every week, Ed Wallace introduces his Second Hand News segment as "major stories this week that the mainstream media did not give much play".  Yet, in practice, its contents overwhelmingly parrot the narratives of the left-leaning mainstream media and government bureaucracy.
In short, Second Hand News equals Mainstream Media.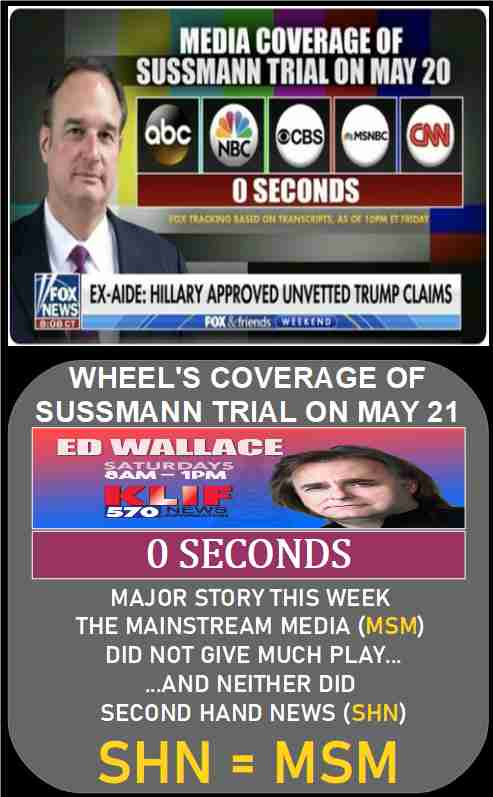 KLIF Wheels with Ed Wallace: No Sussmann Trial Coverage
<![if !supportEmptyParas]> <![endif]>