<![if !supportEmptyParas]> <![endif]>
With Seven Weeks In, KLIF Wheels Remains the Ed Wallace Show

2022 December 24
Seven shows has transpired since John Ingram and David El Attrache supposedly took over as hosts of Wheels on KLIF AM 570. The reality is that Wheels very much remains the Ed Wallace show. Even before the show starts, KLIF itself still promotes the show as "Wheels with Ed Wallace".
Speakers: KLIF Announcer
KLIF 570 AM – Every Saturday ~7:58AM

"Cars. Trucks. SUVs.
And the Backside of American History.
The best in weekend content.

'Wheels with Ed Wallace' is next
right here on 570 KLIF."

The inability of the new hosts to handle the job that they accepted has not gone unnoticed by the audience. Virtually every week, callers tease Wallace by asking how is that retirement going.
Speakers: Wallace, Caller
KLIF 570 AM – December 3, 2022

Caller equates Wallace's tutorage of the new hosts to training cats.
After a long winded explanation of why he is still hosting the show, Wallace concedes that
Ingram and El Attrache are not yet capable
of running the show by themselves:
"[…] When I am here with them,
they seem to relax and do the show better."

Whatever the nominal title assigned to Wheels, the show remains Wheels with Ed Wallace. The pattern is well established. At first, one hears Wallace off-microphone coaching the others past some confusion. Then, the frustration mounts to the point where Wallace comes on-microphone and takes over the rest of the show.
Times of Ed Wallace's Interjecting Himself into Wheels
November 5, 2022 – December 17, 2022

Date

Off-Microphone
Coaching First Heard

On-Microphone
Takeover of Show

11/05/22

09:43AM

09:56AM

11/12/22

09:59AM

10:08AM

11/19/22

N/A

08:03AM

11/26/22

09:08AM

09:51AM

12/03/22

08:24AM

08:25AM

12/10/22

08:09AM

08:20AM

12/17/22

09:05AM

09:49AM

Every Saturday, Wheels runs four hours from 8AM to 12PM. Ingram and El Attrache only once ran the show as far as the third hour. From that point of takeover, Wallace monopolizes the microphone and runs the conversation.
So, inspired by these real-life events, Outside Automotive urges all to flock to the theaters to see this year's holiday sensation: Radio Alone. The Internet Move Database has the following plot synopsis for the film:
Radio Alone (IMDb.com):
<![if !supportLineBreakNewLine]>
<![endif]>
A blizzard buries Dallas throughout the night before Christmas Eve. Nominal Wheels radio show hosts John Ingram and David El Attrache manage to get to the studio for the Christmas Eve broadcast. But actual Wheels host Ed Wallace arrives later and finds himself locked out of the building, as all the entrances have since frozen shut.

Hijinks ensue as Ingram and El Attrache realize that they will be on the radio alone.

So, gather the family for this new Christmas classic.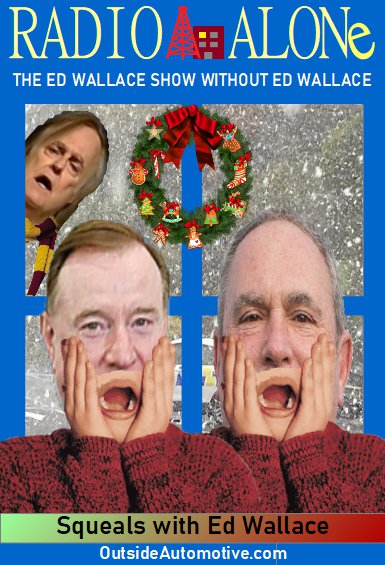 And for those unfamiliar with the 1990's film Home Alone, watch it tonight on ABC (December 24, 2022), starting at 7:00PM CST: