<![if !supportEmptyParas]> <![endif]>
Smelling a Ratt with the Repeated Circular Promotion between Wallace and Lieber

2023 February 1
There appears to be an arrangement between KLIF Wheels host Ed Wallace and Dallas Morning News columnist Dave Lieber where each promotes the other. This was first noted here when exposing Lieber's awarding Wallace a consumer watchdog award, when Wallace's own words and actions reveal that is far from being one.
Lieber was again promoting Ed Wallace within his January 26th article concerning the investigation of the deadly 2021 Fort Worth toll road pileup.
<![if !supportEmptyParas]> <![endif]>
The inclusion of Ed Wallace within Lieber's column is entirely gratuitous. Upon hearing the toll road operator's claim, everyone would have doubts that people were driving at 100 MPH in icy conditions. The opinion of some car salesman turned Democrat pundit adds nothing to that which even the far below average reader already knows.
So, why would Lieber include the Wallace quote? Well, for the next two days (January 27th and 28th), Ed Wallace headlines a link to that Lieber article on his Inside Automotive web site. That drives web visitors to Lieber's column on the Dallas Morning News site. And more traffic to his employer's site means less likelihood of a repeat of his fate at the Star Telegram.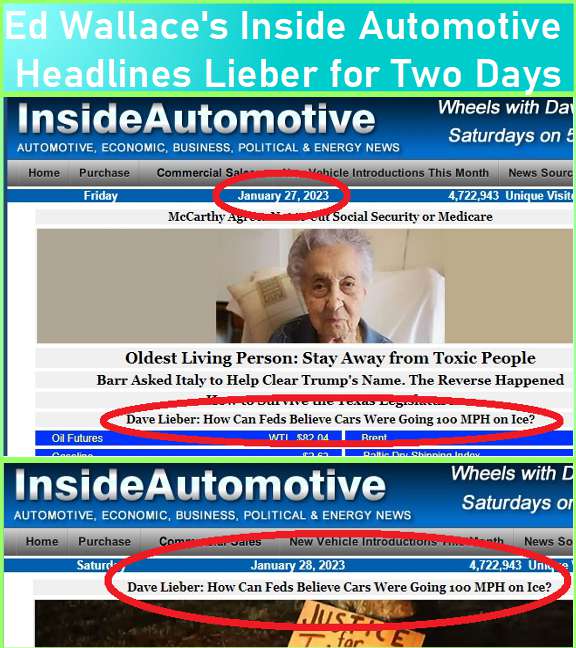 [EXPAND]
Lieber's article is mostly devoid of substance. The claim of excessive speed causing the pileup raises more questions than it answers, none of which will be addressed until the final report is released. So, Lieber takes the opportunity to drive traffic to Wallace, and Wallace reciprocates in kind.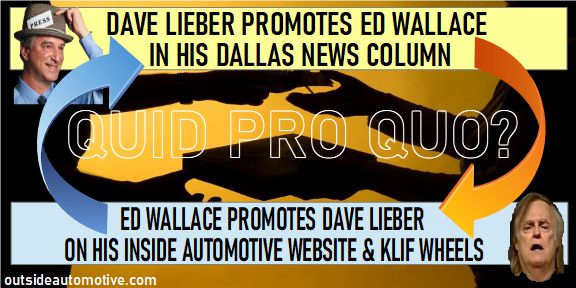 [EXPAND]
Who is Dave Lieber? Well, he bills himself as a consumer watchdog. He also was arrested for abandoning his eleven-year-old son at a restaurant.
Dave Lieber might have composed lyrics commemorating that arrest, along with his reciprocal promotion arrangement with Ed Wallace. Set to the tune of Ratt's song "Round and Round", his song is titled "BRATT".
<![if !supportEmptyParas]> <![endif]>
Dave Lieber
"BRATT"

Cruising the street, stopped by the heat
Breakfast was a fight, And I crossed the line
Abandoned my son, the arrest was no fun
He misbehaved, drove away just myself
<![if !supportEmptyParas]> <![endif]>
Later that day, 4K bond to pay
What ya gonna do, he really pissed me off
I had enough, I had enough
We leave now, he said
<![if !supportEmptyParas]> <![endif]>
I knew right from the beginning
My son would end up walking
I knew right from the start
My son rides home on DART
<![if !supportEmptyParas]> <![endif]>
Round and round
With Wallace I've no shame, just give him hype
Round and round
What comes around goes around
So I'll ignore Ed's lies
<![if !supportEmptyParas]> <![endif]>
<![if !supportEmptyParas]> <![endif]>
And for those unfamiliar with the song Round and Round by the 1980s glam metal rock group Ratt, the following is submitted for your approval:
<![if !supportEmptyParas]> <![endif]>