Inside Automotive's Lie of Omission: No Links to IRS Whistleblowers Testimony on DOJ Corruption

2023 July 26
Ed Wallace claims that his news aggregation website Inside Automotive provides the latest political news. In practice, Wallace regularly omits news that counter the narratives that he seeks to promote. This selective curation presents his warped, Soros-aligned perspective, yet Wallace exclaims almost every Saturday morning that he tells the truth.
For the week of July 16th, Wallace's top lie of omission was his complete blackout of any articles discussing the two IRS agents whose testimony illuminated the Biden bribery scandal.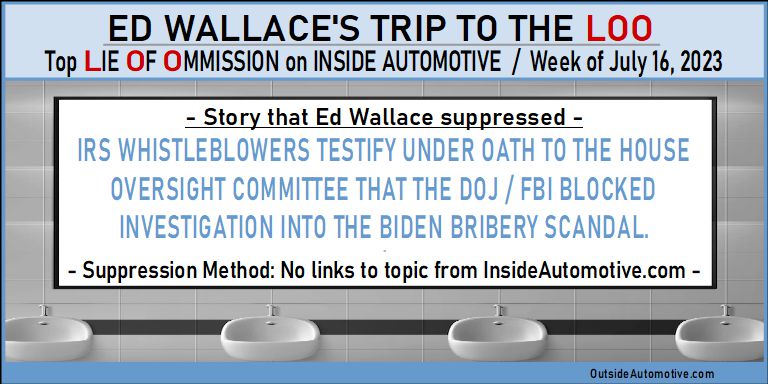 [EXPAND]
Their testimony was given under oath by individuals with first hand knowledge of the accusations being made. It took place during a House committee hearing, whose members were selected by the leadership of their respective party. And the Democrats were given roughly equal time to cross-examine these IRS agents. Furthermore, the agents have documents to support their testimony and one of the agents was interviewed by CBS. None of this did Wallace deem worthy to share on his "news" aggregation web site.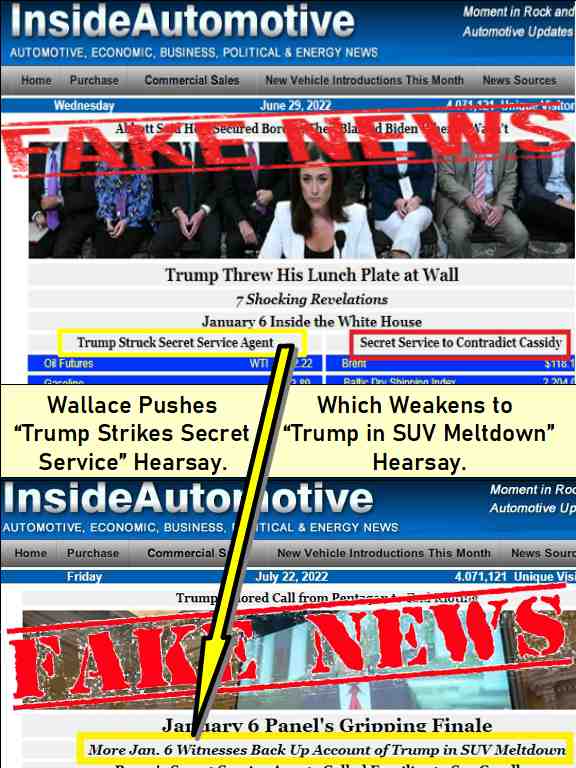 [EXPAND]
Conversely, Wallace published multiple headlines over several days when Cassidy Hutchinson provided second hand hearsay to the House's J6 committee asserting that Trump lunged at secret service agents.  This was hearsay that no one collaborated. And this was hearsay that secret service agents offered to refute under oath to the J6 committee, but were never called by the J6 committee to do so. This is what happens when a committee comprised solely of those selected by Democrats, as Pelosi refused to seat those selected by the Republican leadership. So, Cassidy's testimony about something she never observed was never tested by cross-examination. Despite all this, Wallace did deem that testimony worthy to share on his "news" aggregation web site.
In short, when congressional testimony is conspicuously false yet furthers his desired narrative, Ed Wallace gladly highlights it on the Inside Automotive web site. Yet, when congressional testimony is credible but undercuts his desired narrative, Ed Wallace excludes it from the Inside Automotive web site.
To conclude, Inside Automotive is not a news aggregation web site. It is propaganda in the form of curated links.
-- Other Lies of Omission from the Week of July 16, 2023 --
Robert F Kennedy Jr. also testified in front of a House committee that week. He is a member of a prominent Democrat political family and is running in the Democrat primary for President. Wallace excluded any link to an article regarding his testimony from his Inside Automotive web site. The most plausible explanation is that Kennedy was revealing suppression by the government of protected speech, which is a narrative that Wallace must suppress, as per his Soros-aligned allies.
During the July 16th week, Inside Automotive linked to four articles with labels that presented SCOTUS Justice Clearance Thomas in a negative light. Yet, when the AP released a big article on July 11th detailing how SCOTUS Justice Sonia Sotomayor was coercing colleges and libraries into buying her books, Wallace never provided that link. Instead, one was provided to a link labeled "AP Investigates SCOTUS Ethics Practices" that has no mention of the ethics violations alleged against her. Again, Wallace's bias is exposed on Inside Automotive as conservative justices are treated very differently than the liberal ones.