Second Hand News: Ed Wallace Falsely Labels Podesta/Soros Organization as 'NONPARTISAN'

2023 October 7
In the October 30, 2023 edition of Wheels, Wallace presented two falsehoods in the Second Hand News (SHN) segment that was particularity egregious. That is why that segment is better known as Sleight of Hand News, where the rest of the story is hidden up Ed Wallace's sleeve.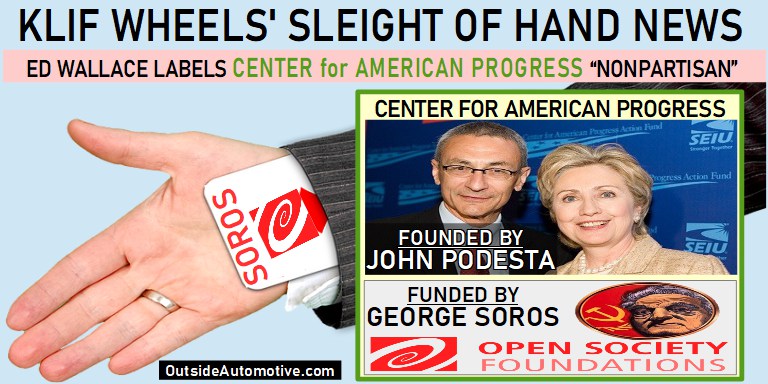 ED WALLACE

FALSEHOOD

#1:

Center for American Progress is "NONPARTSIAN"

In the first case to be examined, Wallace discussed a report about the causes for the national debt. And, like most things presented by Ed Wallace, the report blames tax cuts by Republicans.

Ed Wallace
KLIF 570 AM - September 30, 2023 10:35AM

Ed Wallace
"Maybe by tomorrow, the government will be in shutdown again, as Republicans claim to be taking the high road and forcing us to deal with our $33 trillion national deficit.
But the Center for American Progress, which is a nonpartisan think tank, they brought up the fact that the tax cuts. put forward by George W Bush and Donald Trump with the help of Congress, those tax cuts for the rich added 10 trillion to our national debt."
To sell this dubious assertion to the audience, Wallace describes the organization publishing that report as nonpartisan. And if one looks at the Center for American Progress's website, it does describe itself as such. But the use "progressive" within the organization's name signals to everyone that the opposite is true. 
Wikipedia – "Center for American Progress"

"The Center for American Progress (CAP) is a public policy research and advocacy organization which presents a liberal [2] viewpoint on economic and social issues. It has its headquarters in Washington, D.C."

Footnote [2] substantiates the liberal categorization with sources from: The Washington Post, Los Angeles Times, USA Today, Chicago Tribune, Reuters, The New York Times.
Even with the leftist tilt of its content and moderation, Wikipedia reports the correct orientation of the Center for American Progress (CAP). But one need not rely on Wikipedia for this conclusion. A quick look at CAP's most recent IRS form 990 filing (2021) offers sharp, unbiased clarity.
The largest source of funds, by far, is a Soros entity tied to his Action Network, which sent roughly three times the funds of the next largest donor. Both top two donors are far-left organizations. And that is likely the orientation for all other donors referenced in that IRS Form 990.
IRS FORM 990 (2021) – SCHEDULE I

Donor

Amount

PROGRESS ACTION FUND

"The Center for American Progress Action Fund (CAP Action), established in July 2003 by longtime Clinton family confidant John Podesta, liberal billionaire George Soros, and a handful of other former Washington, D.C. Democrats and Clinton administration officials, is a leading force in progressive media as the publisher of the left-wing blog ThinkProgress."

$ 6,549,896

(2) RESOURCES LEGACY FUND

"Resources Legacy Fund (RLF) is a left-of-center grant making and environmental conservation group."

$ 1,750,000
As for CAP's board, it is a collection comprised exclusively of Democrats, Socialists, Greens and Marxists.
IRS FORM 990 (2021) – PART VII, SECTION A

Trustee / Director

Details

JOHN PODESTA

Founder, Director
■ Staff member of Biden, Obama administration.
■ Campaign manager of Hillary 2016.
■ Chief of staff for Bill Clinton administration.

PATRICK GASPARD

President
■ President (former) of Soros' Open Society Foundation.
■ Staff member of Obama administration.

NEERA TANDEN

President (former)
■ Staff member of Biden administration.
■ Staff member of Obama administration.

GORDON GRAY

All highly affiliated with Democrat, Marxist and/or liberal organizations.

STACEY ABRAMS

JULIAN CASTRO

STEVE DAETZ

SEN TOM DASCHLE

ANDREW HAUPTMAN

GLENN HUTCHINS

ERIC MINDICH

KRISTIN MUGFORD

DONALD SUSSMAN

HANSJORG WYSS
The details of a recent change of CAP's president further expose the organization's leftist partisanship.
Politico - "The most influential think tank of the Biden era has a new leader"
June 30, 2021 by SAM STEIN and NATASHA KORECKI
"In 2021, Patrick Gaspard, a longtime Democratic operative who served most recently as president of the George Soros-run Open Society Foundations, will take over as president and CEO of the Center for American Progress."

"His hiring ends a months long process to find a replacement for Neera Tanden, who left the post to become a senior adviser to President Joe Biden."
So, the outgoing CAP president leaves to work for the Democrat administration of President Joe Biden. And the incoming CAP president was the president of the far-left George Soros organization.
So despite being primarily funded by the far-left Soros organizations and being founded and run by far-left Democrat/Socialist/Marxist operatives, Ed Wallace describes the Citizens for American Progress organization as "nonpartisan".
ED WALLACE FALSEHOOD #2: No Convictions from Durham Investigation
Ed Wallace reliably carries forward the mainstream media narratives, especially on stories involving Trump. During the September 30th Second Hand News (SHN) segment, Wallace revisited the Durham investigation, which looked into malfeasance by the government in falsifying a case of collusion between President Trump and Russia. The Steele dossier upon which that Trump/Russia federal case was predicated was a fraud. The FBI could not verify the dossier. They offered $1M to Steele to verify it. He could not. Despite being unverified, the FBI presented the Steele dossier as such to the FISA court to enable extraordinary intrusions into the Trump campaign. This was a violation of the FBI agents' oath to their office.
None of the above bothers Ed Wallace, as he believes malfeasance by the FBI and Department of Justice should be ignored because the ends of getting Trump justify all means.
In reality, the Durham investigation was neither a political witch-hunt nor an honest assessment of internal affairs. It was a whitewash that revealed some torts in manner such that there would not be accountability by the institutions and persons responsible. And even that minor exposure of deep-state malfeasance was too much for Wallace. During SHN, he rails against the Durham report as follows:
Ed Wallace
KLIF 570 AM - September 30, 2023 10:31AM

Ed Wallace
"And as a reminder,
Dunham [SIC] couldn't make one case in court based on that report stick.
Now, the fact that nobody cares about the truth in this case suggests our democracy isn't gonna stand under this level of corruption."
Wallace concludes his condemnation of Durham by asserting that Durham won no convictions. That is false. Durham struck a conviction in court when former FBI attorney Kevin Clinesmith plead guilty in the U.S. District Court for the District of Columbia for intentionally submitting a false statement to the FISA court. As evidence that Durham was the cleanup man, Clinesmith only received 12 months of probation and did not lose his law license.
To conclude, Ed Wallace's reporting that no convictions resulted from Durham's investigation is false. And, as such, it is Ed Wallace that does not care about truth in this case. And should our democracy fall, it will be because of the corruption of people in the fourth estate like Ed Wallace.
In other words, the above is just another representative instance of Wallace's Sleight of Hand News.
-- Related Stories --
2021 October 19 – Wheels with Ed Wallace Inflames Instead of Informs with Merck Pill Coverage
2021 June 28 – Ed Wallace of Wheels Ignores and Understates Facts That Refute His Peloton Narrative
2021 April 17 – Wheels with Ed Wallace's Sleight of Hand News Segment - Daunte Wright