<![if !supportEmptyParas]> <![endif]>
Ed Wallace's Inside Automotive Bias Exposed by Slanted Coverage During Rittenhouse Trial

2021 November 14
Ed Wallace uses his Inside Automotive website to promote false narratives as news.  And that is the case with his aggregation of links to Rittenhouse stories during the court proceedings.  Click here to read Outside Automotive's prior summary of the Rittenhouse case and Wallace's coverage of such at that time.
When the Rittenhouse trial began on November 1st, Wallace's tone is mostly neutral with links to straight news stories (although some with elements of bias).  Then, as the case against Rittenhouse falls apart, Wallace's link labels deviate the article's actual title in order to emphasize something negative to Rittenhouse while omitting anything favoriable to Rittenhouse.  Instead of continuing to link to news articles that present a comprehensive view of trial's progression, Wallace switches to link to opinion pieces that criticize Rittenhouse or the trial judge.  This is Ed Wallace go-to move when facts do not support his false narratives (i.e. Wallace's promotion that border patrol used whips, which was an obvious lie).  Via biased story curation and adulterated link labels, Wallace manufactures a fictional narrative that pushes a perspective where anything but a guilty verdict for Kyle Rittenhouse is a miscarriage of justice. 
Date
(2021)

Inside Automotive
Link Label

Actual Article Title

OCT 31

In Rittenhouse case, Americans see what they want to see

NOV 1

Kyle Rittenhouse will argue self-defense. Experts say proving the argument to a jury isn't easy.

NOV 2

Jury seated for homicide trial of Kyle Rittenhouse

NOV 3

Rittenhouse judge warns prospective jury of 'deliberately biased' media coverage

NOV 4

It's 'Actually' in 'the Bible': Kyle Rittenhouse's Judge Explains Hearsay Rule to Jury by Talking About Trials of St. Paul the Apostle

NOV 4

Kyle Rittenhouse's Lawyer Says Killings Were Self-Defense

NOV 5

Jurors see graphic videos of men shot by U.S. teen in Wisconsin

NOV 6

Man killed by Rittenhouse challenged group to shoot him, witness testifies

NOV 7

Cop Says He Drew His Gun When Kyle Rittenhouse Disobeyed Commands After Fatal Shootings

NOV 9

Survivor of Rittenhouse shooting says he pointed gun at U.S. teen, tried to disarm him

NOV 10

Rittenhouse said he 'had to shoot' after opening fire, jury hears

NOV 11

Tears, yelling and calls for a mistrial: What a dramatic day could mean for the Kyle Rittenhouse murder trial

NOV 11

Cevallos: 'Rittenhouse has been masterfully trained' in double homicide trial

NOV 11

Judge buys Rittenhouse lawyer's inane argument that Apple's pinch-to-zoom manipulates footage

NOV 11

Kyle Rittenhouse deserves an award for his melodramatic performance on the witness stand

NOV 12

Rittenhouse and his victims are America's 'lost boys'

NOV 12

The Tragic Danger of Kyle Rittenhouse

NOV 12

Don't Blame Judge Schroeder if Kyle Rittenhouse Goes Free

NOV 13

U.S. judge in Rittenhouse trial says jury can consider teen provoked attack

NOV 13

Group posts address of prosecutor in Kyle Rittenhouse's homicide trial on extremist platform

NOV 14

Rittenhouse trial judge still baffled by pinch-to-zoom

Table Color Key:
 Red    = Deceptive Link Label
 Yellow = Anti-Rittenhouse Opinion Piece
 Purple = Anti-Rittenhouse News Article
<![if !supportEmptyParas]> <![endif]>
The most critical point in the whole trial occurred on November 8th, which is when prosecution's witness Gaige Grosskreutz was cross-examined.
Per the AP:  But during cross-examination, Rittenhouse defense attorney Corey Chirafisi asked: "It wasn't until you pointed your gun at him, advanced on him … that he fired, right?"
<![if !supportEmptyParas]> <![endif]>
"Correct," Grosskreutz replied. The defense also presented a photo showing Grosskreutz pointing the gun at Rittenhouse, who was on the ground with his rifle pointed up at Grosskreutz.
<![if !supportEmptyParas]> <![endif]>
Inside Automotive linked to an article on November 9th whose title leads with this admission by Grosskreutz.  Ed Wallace omits this admission in his link label to that article.  Instead, Wallace manufactures a false narrative that casts Grosskreutz as a hero:
Article Title:  "Survivor of Rittenhouse shooting says he pointed gun at U.S. teen, tried to disarm him "
becomes
Ed Wallace's Deceptive Link Label:  "I Tried to Disarm Kyle Rittenhouse"
<![if !supportEmptyParas]> <![endif]>
The court case was over at this point, and when one reviews the story curation / link labels after November 8th, one sees Ed Wallace accept defeat.  With the facts undermining his preferred narrative, Wallace begins linking to opinion pieces.  All Ed Wallace can do is use his story curation and link labels to throw shade on Rittenhouse, the judge, and anyone else who does not agree with his perverse view of the world. 
Given his deceitful practices on Inside Automotive website, Ed Wallace should hang his head in shame just like the prosecutors did after their star witness delivered testimony that supports a not guilty verdict by virtue of self defense.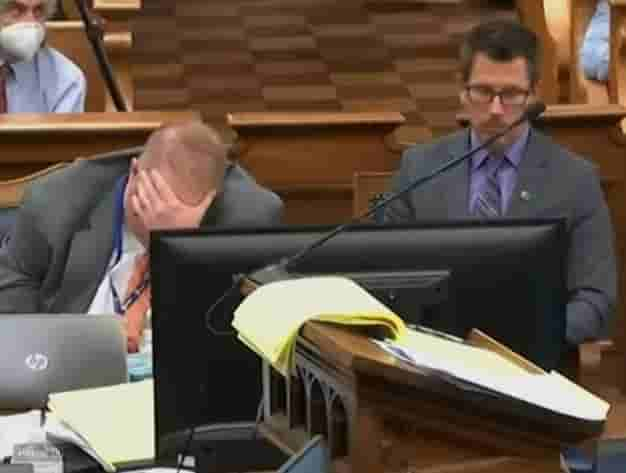 Rittenhouse Prosecutors Hang Head in Shame
<![if !supportEmptyParas]> <![endif]>