<![if !supportEmptyParas]> <![endif]>
Freeman Honda Sales Manager Jeff Cole Has a Failure to Communicate

2022 July 2
General Manager Dane Minor (Freeman Toyota and Freeman Honda) returned on June 18, 2022 for a fourth five-hour co-hosting of Wheels. Accompanying him again was Freeman Honda Sales Manager Jeff Cole, who apparently works on the employees-with-no-self-respect side of the Metroplex. 
Freeman Honda Sales Manager Jeff Cole
Wheels with Ed Wallace - June 18, 2022
Audio Samplings
<![if !supportEmptyParas]> <![endif]>
Wallace: "Every time Jeff's here, we have to tell him to talk more."

Wallace: "OK. We're talking with Jeff Cole. Uh. We're talking at Jeff Cole."

Minor: "I wish you could see his [Cole's] face right now. It is bright cherry red."

Cole: "I don't have anything to say."

Cole: "If I were to tell these stories. It will take me seconds. And then I'll be… all done."
And many, many more….       [♫ audio]
<![if !supportEmptyParas]> <![endif]>
Those painful six minutes of audio only partially capture the numerous failures within the show's five hours wherein Cole does not demonstrate any competence other than being his boss's court jester.
Is this supposed to be award-winning radio? What is the purpose of airing some guy who struggles to communicate anything to the audience while his boss and Wallace laugh at him for it?
Penn & Teller is a magic act where only one speaks. As seen on the television series "Fool Us", Teller performs silently, communicating with the audience via facial expressions and miming. While Penn Jillette once hosted a weekday one-hour talk show, Teller was not his co-host. There was an obvious reason. A sound-only medium requires speech. So, why does Wallace persist with repeatedly trotting out this variation of the Penn & Teller act? Putting aside its workplace abuse aspects, the performance is simply bad radio. Wallace has learned nothing from his 30 years of work in radio.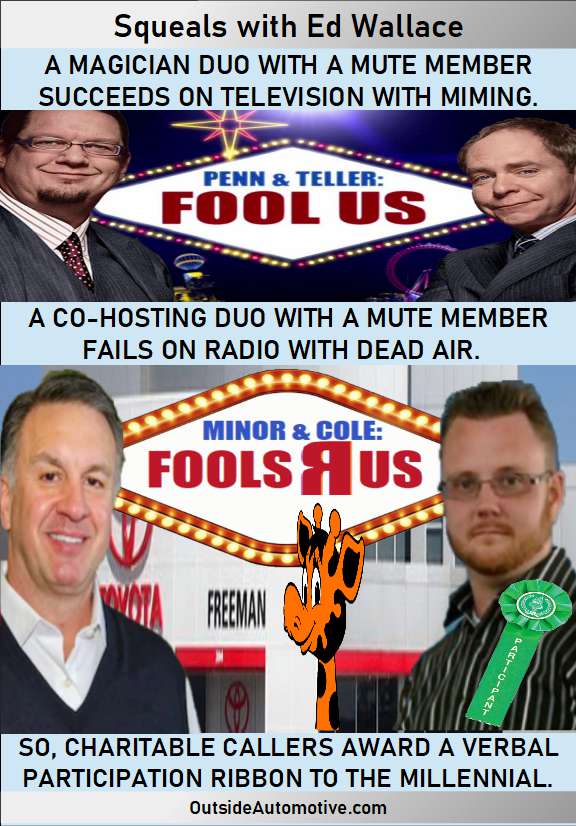 [EXPAND]