<![if !supportEmptyParas]> <![endif]>
Ed Wallace Drops Sewell Subaru from Inside Automotive's Purchase Page

2022 October 24
After being present for over a decade, Sewell Subaru was pulled from the Inside Automotive purchase page. Norm Reeves Subaru Superstore Rockwall has replaced it.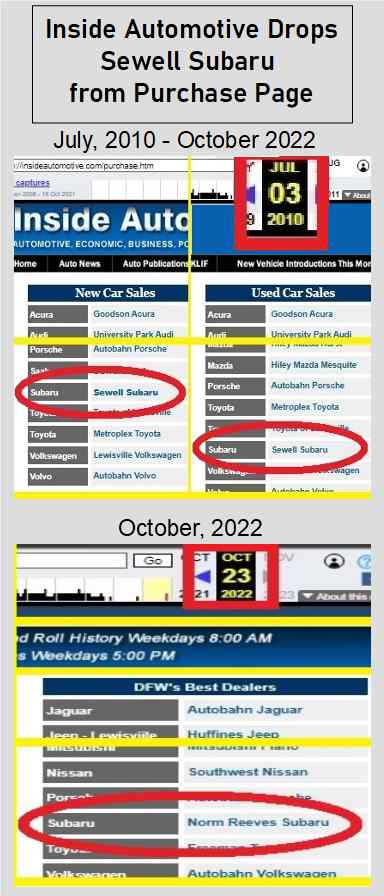 [EXPAND]
<![if !supportEmptyParas]> <![endif]>
So why was Sewell Subaru pulled from Wallace's "DFW's Best Dealers" list? One possibility is that the change was instigated by the incoming co-host of the radio show replacing Wheels. That new co-host is General Manager Norm Reeves Subaru Superstore Rockwall John Ingram. But if that is the cause, how does Freeman Honda remain on the purchase page when the other incoming co-host is David Elattrache, General Manager Norm Reeves Honda Superstore North Richland Hills? With that latter case, links to both Honda dealerships are present.
One could argue that the cause is location. But the roughly 33-mile distance that separates the two Honda dealerships equals the roughly 31-mile distance that separates the two Subaru dealerships. So the dumping of Sewell Subaru ain't the result of a geographical oddity.
Follow the money. Freeman pays for radio commercials on Wheels, and Freeman Honda remains on the site. Sewell stopped advertising on Wheels, and Sewell starts disappearing from the Inside Automotive web site. First it was the Sewell Collision Center, and now its Sewell Subaru.
To conclude, despite ♫ Wallace claiming otherwise, a presence on the Inside Automotive purchase page appears to be dependent upon running ads on Wheels. And given this de facto sponsorship of the web site, those dealerships should be held accountable for funding the dishonest article curation of Inside Automotive.