<![if !supportEmptyParas]> <![endif]>
Sewell Automotive Company Stops Advertising on KLIF Wheels with Ed Wallace
2022 October 8
2022 October 9 (Updated)
It seems that no dealership owned by the Sewell Automotive Company had a commercial broadcasted during Ed Wallace's KLIF Wheels radio show since at least September 10, 2022.  As best as Outside Automotive could determine, the last commercial aired for a Sewell dealership was July 30, 2022.  Meanwhile, Sewell dealership commercials continue to air (as recently as October 1, 2022) on his direct competitor's show: The Car Pro Show (WBAP 820).
Dealerships owned by the Sewell Automotive Company still appear on the purchase page of Wallace's Inside Automotive web site. Perhaps this apparent sponsorship cessation at the end of July 2022 was Wallace's motivation for ♫ claiming that he does not charge dealerships to be on his web site during his August 20, 2022 show. That claim is misleading, as up until the recent loss of Sewell, only dealerships that advertised on Wheels or had a sibling dealership owned by someone who advertised on Wheels would be a published referral on that purchase page. So, while maybe not explicitly contracted, those purchase referrals on the Inside Automotive page correlate closely to who spends advertising dollars on Wheels. Put another way, there are no purchase referrals on Inside Automotive to a dealership whose group has never advertised on Wheels.
All Dealer Groups
on Purchase Page of
Inside Automotive

Group Runs Commercials on KLIF Wheels

Autobahn

X

Classic

X

Don Herring

X

Frank Kent

X

Freeman

X

Gilchrist Automotive
(Southwest,Platinum,TripleCrown)

X

Hiley

X

Huffines

X

Moritz

X

Norm Reeves

X

Sewell

<![if !supportEmptyParas]> <![endif]>
<![if !supportEmptyParas]> <![endif]>
In the past, the Sewell Collision Center has run commercials during Wheels. Serving as another indicator that the relationship between Wallace and Sewell is unwinding, the long present advertisement (since 2009) for the Sewell Collision Center was dropped on August 17, 2022 from the Inside Automotive front page. The Sewell advertisement was replaced with a promotion for a book written by one of Wallace's buddies. There was no technical requirement for the Sewell ad to have been dropped, as there is plenty of space within the page's right side column to accommodate the publishing of both advertisements on the front page of Inside Automotive.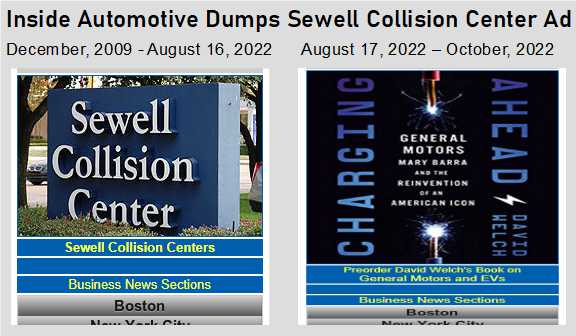 [EXPAND]
The last indicator that money from Sewell no longer flows to Wallace occurred during the October 1, 2022 edition of Wheels.  As soon as caller "Pat from Bedford" mentioned Sewell, Wallace ended the call.
Speakers: Ed Wallace, Pat from Bedford
KLIF 570 AM – October 1, 2022

Ed:  "Have you talked to Aaron over at
      Autobahn?"
Pat: "Uh, no"
Ed:  "That's who you need to talk to."
     <CROSSTALK>
Pat: "I went back to Sewell"
CALL TERMINATED
[♫ audio]
<![if !supportEmptyParas]> <![endif]>
Based upon his explanation of the call disconnect, one could conclude that Wallace was attempting to dump just the audio so as to not broadcast the name "Sewell", but dropped the entire phone call instead. That said, Pat from Bedford never did return to the air to complete the discussion. Not that it matters, as no help was likely forthcoming anyway. Based upon Ed's past behavior, Wallace would have likely berated Pat from Bedford for transacting business at a dealership (Sewell BMW) that competes with one of his sponsors (Autobahn BMW). In this context, Sewell is the name that must not be spoken. Perhaps that is why Sewell dumped Ed Wallace.
October 9, 2022 Update:
No commercials for any dealership owned by the Sewell Automotive Company ran during the October 8th edition of Wheels with Ed Wallace radio show. However, Wallace twice mentioned body shop manager Kevin Krott during the show when discussing auto collision repairs. But Wallace omits that Krott runs the Sewell Collision Center. It almost like Ed Wallace wants to remove that memory of a lost client.  And why does that have a familiar ring?
Speaker: Sam Sexton
KLIF 570 AM – February 27, 2021
<![if !supportEmptyParas]> <![endif]>
"[…] You've had a wreck.
Let the Sewell Collision Center
remove that memory. […]"
[♫ audio]
<![if !supportEmptyParas]> <![endif]>
Meanwhile, during a truncated October 8th edition, Car Pro Show co-host Kevin McCarthy was announcing that the Sewell family of dealerships was a sponsor of his show (9:10AM) and then a Sewell Infiniti commercial ran later in show (9:38AM). So, Sewell was spending advertising dollars that Saturday morning. But none of them went to Wallace.
To conclude, over two months have passed without a commercial for a venue owned by the Sewell Automotive Company. Ed Wallace has apparently lost a long time sponsor.