Inside Automotive's Lie of Omission: WaPo Awards Four Pinocchios to Biden's China Pay Denial

2023 August 9
 "You know what? Ed Wallace should be ashamed of himself. You know… He pastes onto his website a few links to other reporters' work… He thinks he's doing journalism." – Elaine Benes
For the week of July 30th, Wallace's top lie of omission was a "fact-check" performed by the Washington Post (WaPo).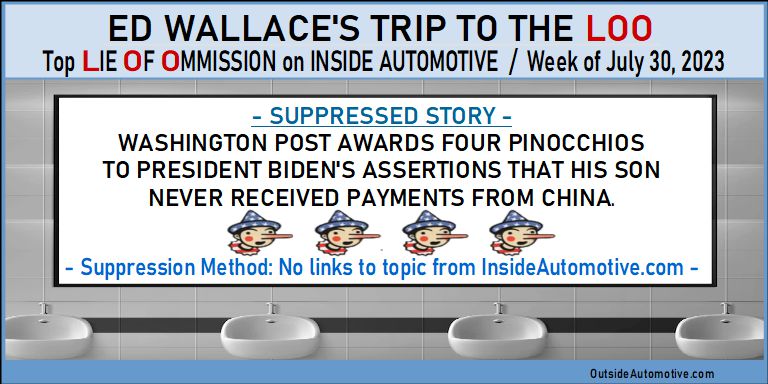 [EXPAND]
In this WaPo's article, Joe Biden's statements from the presidential debate are juxtaposed against the testimony which Hunter Biden gave in court. In a 2020 presidential debate, Joe Biden stridently declared that his son received no money from China. Three years later, Hunter Biden confessed that he had received $664K in payments from China in 2017. Given those two data points, the Washington Post awarded four Pinocchios to President Biden.
This story might seem familiar, as it is related to last week's top LOO. It just took a week for the Washington Post to report the matter. Wallace omitted any links to the Post's belated coverage. And as such, this suppression of the results of his beloved MSM fact-checking becomes the top Lie of Omission for the week of July 30th.
One must also note that the Washington Post's fact checker juxtaposed the exact same data points to reach its conclusion as did the article by Outside Automotive. Both quoted the same parts of the presidential debate and the Hunter Biden court transcript. Furthermore, the Outside Automotive article was published 16 hours before the Washington Post's fact check. So, a trip to the complaint department might be in order.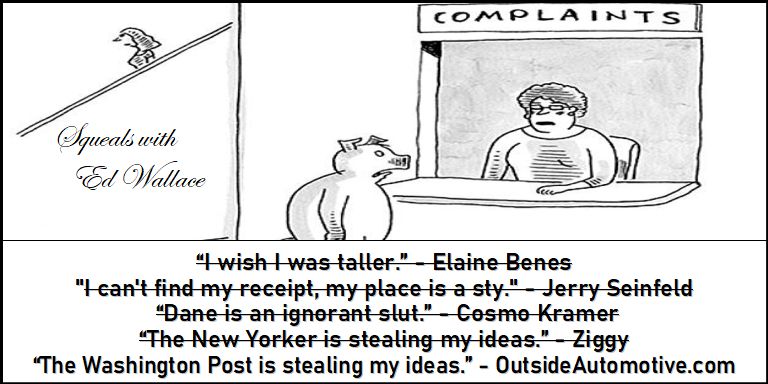 [EXPAND]
And for those unfamiliar with the above reference, the following is submitted for your approval:
Seinfeld (S9, E19) "The Cartoon":
Elaine: "You know what? You people should be ashamed of yourself. You know… Ya doodle a couple of bears at a cocktail party talking about the stock market… You think you're doing comedy."
[VIDEO MISSING FROM ABOVE CLIP...]
Kramer taps on a sheet of paper that he gives to Elaine to read.
Elaine: "The pig says 'my wife is a slut.' "
Jerry: "Now that's a complaint."
To conclude, Inside Automotive is not a news aggregation web site. It is propaganda in the form of curated links. Now, that's a complaint. Because it's real.
-- Other Top Omissions for the Week of July 30, 2023 --
DATE

TOPIC

2023JUL31

Supreme Court Justice Ketanji Brown Jackson's defense of racial discrimination contains two falsehoods.

[Fox News]

2023AUG01

Fatal stabbing of NYC gay man by Muslim teen. [NBC News]

2023AUG04

Dianne Feinstein cedes 'Power of Attorney' to daughter, which raises questions. [Newsweek]

2023AUG05

Barack Obama biographer David Garrow reveals ex-president Obama's 'gay fantasies'. [Daily Mail UK]
-- Related Stories --
2023 August 1 – Inside Automotive's Lie of Omission: Hunter Biden Testifies to $664K Payment from China
2022 May 28 – Pro-Life Church Elder Sponsors Abortion Rights Advocating KLIF Wheels with Ed Wallace