<![if !supportEmptyParas]> <![endif]>
Pro-Life Church Elder Sponsors Abortion Rights Advocating KLIF Wheels with Ed Wallace

2022 May 28
Since first examined on 2022MAY14 by a post titled Ed Wallace's Inside Automotive Site's Abortion Rights Links Tilt at 84% to Pro-Choice, 0% to Pro-Life, Wallace continued to post abortion rights related links on Inside Automotive.  These links skewed heavily towards pro-choice sources and views.  Plus, Wallace explicitly advocated a pro-choice stance during both the May 14th and May 21st editions of the KLIF Wheels radio show.  Then Wallace went further, imploring his audience to ♫ "help out Planned Parenthood".  The largest single provider of abortions, Planned Parenthood was founded by eugenicist Margaret Sanger, whom current and former staffers of Planned Parenthood of Greater New York condemned with the declaration: "Planned Parenthood was founded by a racist, white woman."
Given Wallace repeated on-air advocating of abortion rights on KLIF Wheels with Ed Wallace, it is surprising to find that an Elder of a pro-life church not only sponsors the show, but also occasionally participates as co-host for its full five hours duration.  Gateway Church Elder Dane Minor states that he enjoys learning through Pastor Robert's teachings.  Yet, in regards to abortion rights, it appears that Minor's time and advertising dollars have been spent in support of a show promoting acts that are contrary to the teachings of Pastor Robert Morris.
From the Star Telegram:
<![if !supportLineBreakNewLine]>
<![endif]>
Pastor Robert Morris started Gateway in 2000. The church says more than 100,000 people attend services each weekend at locations in Southlake, North Richland Hills, far north Fort Worth, Frisco, Dallas, Wyoming and Arizona.

"We believe what scriptures teach regarding the equality of all mankind and why we have an obligation to treat everyone with fairness and respect," he [Pastor Robert Morris] wrote. "Our staff has gone through extensive diversity training, and we have taught that black lives have always mattered, as well as all lives, including the lives of the unborn."
<![if !supportEmptyParas]> <![endif]>
Dane Minor of Freeman Toyota has been a sponsor of Wheels with Ed Wallace (KLIF 570-AM) for years, despite Wallace airing narratives that run opposite of his church's teachings.  That never seemed to cause any on-air friction between the two.  The relationship was always quite jovial, except when Wallace got nervous about Minor's criticizing how Toyota determines which dealers get new stock.
However, Minor has not been in a monogamous relationship with Wallace.  Almost every week in direct competition with Wheels during the 10AM hour, Dane Minor participates live for a segment of the Jerry Reynolds' Car Pro Show (WBAP 820-AM).  On Reynolds' show, Minor declares that ♫ listeners of the Car Pro Show receive preferential treatment over the general public and ♫ get exclusive perks at Freeman Toyota.  And Minor's dalliances do not end there.  Dane Minor's Freeman Toyota also sponsors The Automotive Edge show (KFXR 1190-AM, KRLD 1080-AM) hosted by Kurt Chase, with the occasional in-person participation by Minor.  So, it appears that Dane gets around.
Given all of the above, does Dane Minor's sponsorship of Wheels with Ed Wallace compromise his religious values?  Perhaps he considers his relationship with Ed Wallace as casual.  More of a car booty call than a serious endorsement.  Neal Hancock, another sponsor of Wallace's show, might be best able to describe Minor's promiscuous business relations to all these radio hosts with whom he frequents.  Neal would succinctly quip: "Dane ain't married to none of them".
And with that: "Freeze Frame!  From Dallas, Texas!  It's Saturday Morning!"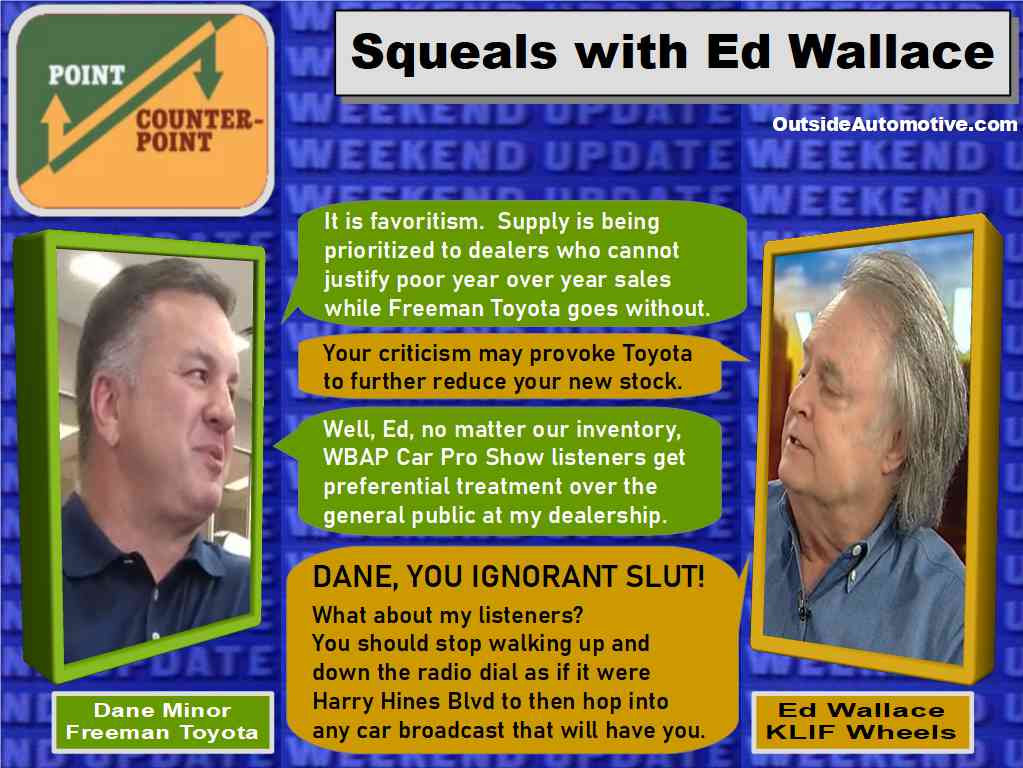 Point/Counterpoint: Ed Wallace vs. Dane Minor
And for those puzzled by the above graphic because they did not watch television decades ago when Saturday Night Live presented comedy instead of bitter Democrat snark, the following is submitted for your approval:
<![if !supportEmptyParas]> <![endif]>
<![if !supportEmptyParas]> <![endif]>