Three More Autobahn Fort Worth Dealerships Dropped from Inside Automotive's Purchase Page

2023 April 29
There has been more fallout from Autobahn BMW and Autobahn Volkswagen cancellation of their ads on the Wheels radio show. When those ads stopped running on April 8th, Autobahn Volvo was removed the same day. 
Two weeks later, on April 22nd, Ed Wallace's Inside Automotive purchase page dropped three more Autobahn dealerships: Autobahn Jaguar, Autobahn Land Rover and Autobahn Volkswagen.
Yet, Wallace has repeatedly told his audience that he does not charge for placement within his sales referral page. The following is just one example:
Ed Wallace, Scott Millsap, Matt Ducote
KLIF 570 AM – July 2, 2022
Ed Wallace
"[…] Now we do this for the purchase page of the website. So I get nothing out of it.
You guys, as you can tell the audience, I make nothing off the website. I don't charge you guys anything for it.
I don't charge you to put new cars coming out online."
So, Wallace says his purchase page referrals are not purchased. But soon after the ad revenue from a dealer stops being received by Wheels, referrals associated with that dealer start disappearing from Ed's purchase page. That has all the appearance of a distinction without a difference. The ad contract itself might not compel Wallace's website to list sponsors of his radio show, but it operates as if it does.
In contrast to his actual actions, Wallace frequently insists that those referrals are there because those dealers are his friends. The following is just one example:
Ed Wallace, David El Attrache, John Ingram
KLIF 570 AM – November 5, 2022

David El Attrache
"I want to go back to the purchase page. I think that is important. Because there are lots of great…"
Ed Wallace
"Theoretically, you guys are going to be here a long time. So the purchase page isn't going anywhere. But that is how to e-mail you."
David El Attrache
"That is how to e-mail us and all the other great dealers that are on the show as well."
Ed Wallace
"They are not great dealers.
They're my friends of mine."
David El Attrache
"That too"
Ed Wallace
"As you and John are."
David El Attrache
"They are great dealers too."
John Ingram
"They are. Right?"
Wallace is such "great friends" with the executive staff of the Autobahn Motorcar Group that their six Inside Automotive purchase page slots went to just two (BMW, Porsche) soon after the checks for their KLIF Wheels radio commercials stop arriving.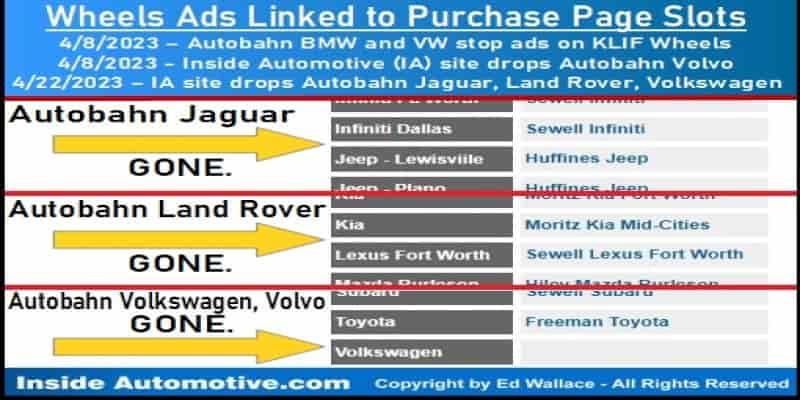 [EXPAND]
On the same day that Autobahn Volkswagen was dropped from the purchase page, the April 22, 2022 edition of Wheels included two commercials for Hiley Volkswagen. On the following day (April 23, 2023), Hiley took the Volkswagen slot on purchase page. Hiley was already running commercials on Wheels for its Acura, Hyundai and Mazda dealerships. Wallace's "friend" Mark Welch is part of the executive management team for all of these properties. So, the arrival of Hiley Volkswagen is more of a reallocation of slots amongst existing sponsors than a recruitment of a new sponsor.
To conclude, if Wallace repeatedly foists an obvious fiction upon his audience that his car dealership purchase page entries are based solely upon friendship and not influenced by financial considerations, why believe anything else Ed Wallace asserts. If the criteria for being on that purchase page truly was friendship, then Autobahn Volkswagen and all the others would still be present.