Inside Automotive's Lie of Omission: Democrat Virginia House Candidate Solicited Money for Webcam Sex Acts
2023 September 20
2023 September 24 (

UPDATE

)
(September 12, 2023) Ed Wallace is always quick to highlight and lampoon politicians caught in embarrassing moments. Well, that statement is not correct. In practice, Ed Wallace is always quick to highlight and lampoon REPUBLICAN politicians caught in embarrassing moments. When it comes to DEMOCRAT politicians, Ed Wallace frequently suppresses any mention of their foibles.
A case in point was news that a Democrat candidate for the Virginia House appears in multiple sex videos that are hosted on a porn site. In these videos, she asks viewers to "donate tokens" in exchange for performing certain sex acts with her husband.
The NY Post reports that she last updated her profile by "uploading at least one picture of herself on the sex streaming site the following month [AUGUST, 2022]". So this is not ancient material, but activity as recent as last year.
Whereas the offender is a DEMOCRAT, Ed Wallace enacts his biased curation and does not link to this news. And, as such, this story is the top LOO of the week.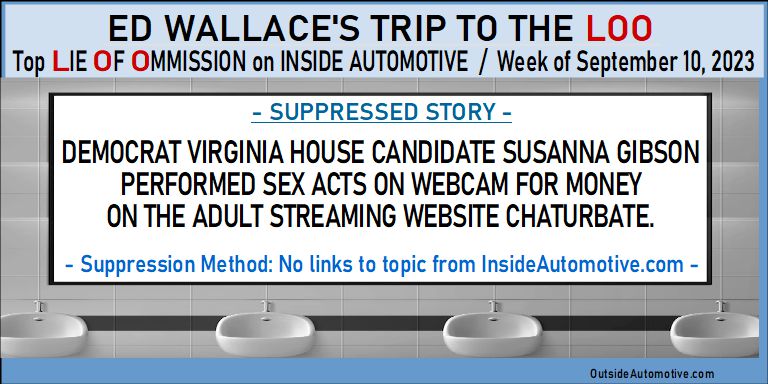 But this LOO is only one side of the same coin tossed last week. Republican U.S. Representative Lauren Boebert got a bit obnoxious and frisky with her beau while attending a musical. Whereas the offender is a REPUBLICAN, Ed Wallace enacts his biased curation and links to that news FIVE times. Three of those links had elevated visibility with a story picture.
So, Wallace does not report on a Democrat candidate performing sex acts in exchange for money, who is running for a seat that could determine which party runs the Virginia House. But Wallace does obsessively report on a Republican representative who was obnoxious and mildly inappropriate in a dark theater. And while on the topic of inconvenient images, how is it possible that a small town neighborhood theater has better security than both the Whitehouse and the Federal Metropolitan Correctional Center?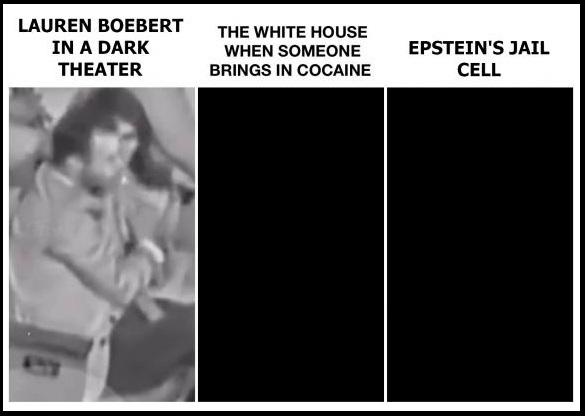 To conclude: When one purchases a car from any of the sponsors of the KLIF Wheels radio show, one is financing Democrat curated propaganda disguised as a news aggregation website. Support honest reporting and do not purchase a vehicle from Wallace's sponsors.
-- Other Top Omissions for the Week of September 10, 2023 --
DATE

TOPIC

2023SEP10

Obfuscates the second amendment infringement by the Democrat New Mexico governor. Wallace applied the link label Albuquerque: Can't Carry Firearms in Public. As per his usual low standards, Wallace did not link to the subsequent developments of an immediate court injunction, widespread criticisms, and governor's retraction of the decree.

2023SEP10

Much to the chagrin of myocarditis enthusiast Wallace, Djokovic wins 2023 U.S. Open and ties Margaret Court for most held slam titles. Djokovic was blocked from attending the event last year, due to refusing to take the "vaccine". As per usual, no links from Inside Automotive.

Ironically, Djokovic also won the Moderna Shot of the Day.

2023SEP13

Wallace obfuscates the news of the launch of the impeachment inquiry on Biden. Instead of linking to a straight news story for the big headline, Wallace links to an op-ed criticizing the inquiry.
-- UPDATE: 2023 SEPTEMBER 24  --
Lauren Boebert was mocked on Wheels in the SEP16 show opening.
On the following Saturday (SEP23), Wallace again mocked Lauren Boebert in the show's opening. And then mocked her yet again during the Second Hand News (SHN) segment with a synopsis of the main points from the five articles (see above) to which Inside Automotive linked during the prior weeks. Wallace concludes this SHN entry by expressing his private Boebert fantasy: "I'm just waiting for this chick to open a Tinder account".
Conversely, Wallace continues to omit any coverage on Wheels or Inside Automotive of the Democrat Virginia House candidate Susanna Gibson, who actually did open and actively published to a Chaturbate account, which Wikipedia describes as "a pornographic website providing live webcam performances by individual webcam models and couples".
Should one be conversing with Wallace either in person or electronically and receive his oft repeated refrain that he is not biased, shut him down quickly with this very specific, conspicuous example of his disparate treatment of news based solely upon political affiliation. Q.E.D.
-- Related Stories --
2023 September 13 – Inside Automotive's Lie of Omission: No Hate Crime Charges for Alabama Riverboat Brawlers
2023 August 17 – Inside Automotive's Lie of Omission: Harris County Judge Lina Hidalgo Admits Self into Mental Clinic
2023 August 9 – Inside Automotive's Lie of Omission: WaPo Awards Four Pinocchios to Biden's China Pay Denial