Inside Automotive's Lie of Omission: Dallas Area Serial Killer Executed by Cellmate

2023 September 27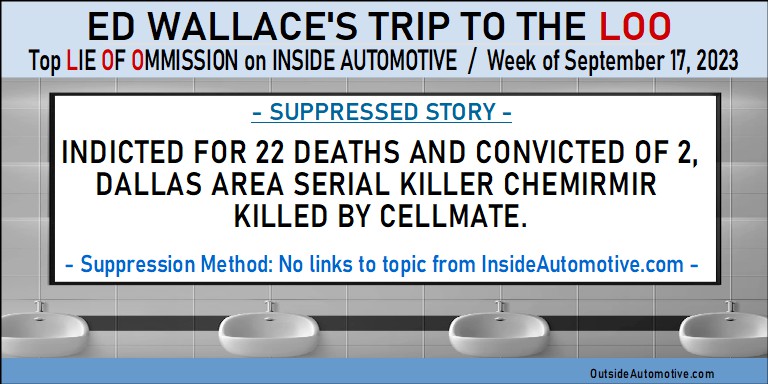 (September 19, 2023) Widely reported both nationally and locally, serial killer Billy Kipkorir Chemirmir was killed by his cellmate.
Fox 4 KDFW - September 19, 2023
Billy Chemirmir, convicted murderer, suspected killer of 22 elderly women, killed in prison

"Chemirmir was found guilty of the murders of 81-year-old Lu Harris and 87-year-old Mary Brooks in Dallas County. He was sentenced to life without the possibility of parole in April 2022.
Chemirmir was connected to several other murders and is accused of killing 22 senior citizens in Dallas and Collin counties between 2016 and 2018."
Though the murders were limited the Dallas area, in-depth news coverage at the time came from publishers located throughout the nation. One such example is this AARP article, which focused on the fact that all the victims were elderly.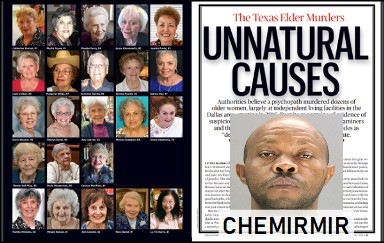 Despite the murders occurring in Ed Wallace's home area of the DFW Metroplex, Inside Automotive did not link to any article covering last week's application of jailhouse justice. Furthermore, for the dates following the two separate convictions of Chemirmir, no links to an article covering Chemirmir's convictions are found on the Inside Automotive (IA) page.
EVENT

DATE

DATES W/O
IA LINK TO EVENT

Dallas County

Chemirmir
Conviction

2022APR28

2022APR28
2022APR29
2022APR30
2022MAY01

Collin County

Chemirmir Conviction

2022OCT07

2022OCT07
2022OCT08
2022OCT09
2022OCT10

Chemirmir Killed in Cell

2023SEP19

2023SEP19
2023SEP20
2023SEP21
2023SEP22
Even further still, no matches were found from a search for the name "Chemirmir" within all Inside Automotive web pages from 2022 on forward. So, it appears Wallace never linked to any article on this local serial killer.
At this point, one might ask why this nationally reported local story never appears on Ed Wallace's supposed news aggregation website. Well, the murderer is black and all his victims are white (apparently). And there is a well established pattern where Wallace modulates his crime reporting based upon the races involved. If the races had been reversed, Ed Wallace's past actions allows one to conclude that this serial killer would have been a headline entry, most likely with a link to an op-ed that asserts that the killings were raced based (regardless the veracity of that assertion).
If Inside Automotive was an ethical news aggregation website, crimes would be treated equally regardless of race. And charges of a racial motivation would require more than glances at the pigment of the skin. But IA is not ethical news aggregation website. It is Democrat propaganda via curation.
-- Other Top Omissions for the Week of September 17, 2023 --
DATE

TOPIC

2023SEP17

Displeased with the acquittal of Texas AG Ken Paxton, Wallace throws a tantrum and publishes 5 anti-Paxton opinion editorial links in the headline section of the SEP17 Inside Automotive (IA) edition. There were no links, and have not been on subsequent days, to even one opinion editorial that supports the acquittal.

Such editorials can be found, even on Ed's hometown leftist MSM Star-Telegram newspaper.

2023SEP19

Ray Epps encouraged folks to go into the capital, texted that he "orchestrated" the J6 riot to his family, and shoved a large sign into capital police. Last week (2.5 years later), Epps is charged with one minor misdemeanor, which is far more lenient than the charges levied against other J6'er who did far less.

IA posted no links to this development. Wallace fears that someone might wonder just how that plea deal was reached.

2023SEP22

Posted a day late (24SEP), Wallace obfuscates news that the Dallas mayor is changing political party from Democrat to Republican with the link label "Dallas Mayor Switches Parties".

Fun challenge: Find another news article on this topic where the title does not identify to which party the mayor switched.
-- Related Stories --
2023 September 20 – Inside Automotive's Lie of Omission: Democrat Virginia House Candidate Solicited Money for Webcam Sex Acts
2023 September 13 – Inside Automotive's Lie of Omission: No Hate Crime Charges for Alabama Riverboat Brawlers
2023 August 17 – Inside Automotive's Lie of Omission: Harris County Judge Lina Hidalgo Admits Self into Mental Clinic