<![if !supportEmptyParas]> <![endif]>
KLIF Wheels' Host John Ingram No Longer General Manager of Norm Reeves Subaru Rockwall

2022 December 20
Based upon John Ingram's absence from the staff page of Norm Reeves Subaru Superstore Rockwall web site and from recent postings on job boards such as LinkedIn and Glassdoor, it appears that John Ingram is not or will soon not be the General Manager of the  Norm Reeves' Subaru dealership in Rockwall. The following entry is from The CAR Group's own job listings:
 [EXPAND]
No additional information was found as to what is Ingram's current relationship with The CAR Group, who own the Norm Reeves dealerships. There was nothing shared about this transition on the KLIF AM570 Wheels radio show.
Nevertheless, this apparent separation between Ingram and Subaru affects the listening audience. When it comes to discussions of vehicles and recommendations, Wallace does not take kindly to car manufacturers who do not have a dealer sponsoring his show. This was apparent with Wallace's conspicuous exclusion of Mercedes when recommending vehicles. And now, Subaru appears to be receiving the same treatment.
Speakers: Wallace, El Attrache, Ingram, Caller
KLIF 570 AM – December 3, 2022

Caller asks for recommendations on an all-wheel-drive vehicle for a son moving to Colorado.
Wallace immediately pushes Honda and hands the caller over to Norm Reeves Honda Superstore General Manager and Wheels host El Attrache.
<![if !supportEmptyParas]> <![endif]>
During the December 3rd broadcast of Wheels, a caller asked for recommendations for an all-wheel-drive (AWD) vehicle for his son, who is moving to Denver. Somehow, Wallace does not mention Subaru. Relatively tiny Subaru ranks third in Colorado's market share, just behind behemoths Toyota and Ford, through Q3 of 2022. Instead, Wallace pushes Honda. Honda holds sixth place in Colorado's market, even though Honda is a much larger manufacturer than Subaru. Further still, Wallace pushes the Honda CR-V, even though AWD is only an option on those cars. Subaru's AWD system is standard for nearly all of its models.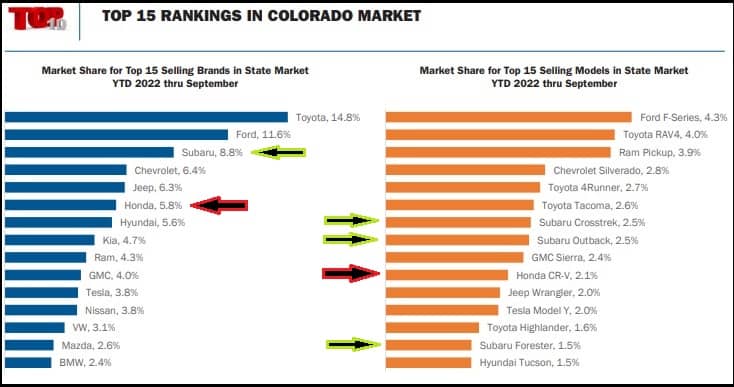 [EXPAND]
As per the Business Insider, the Subaru Outback (for which AWD is standard) was the best selling vehicle in the state of Colorado as recently as 2016. So, chances of finding a used AWD Subaru in Colorado are much higher than that of an AWD Honda CR-V.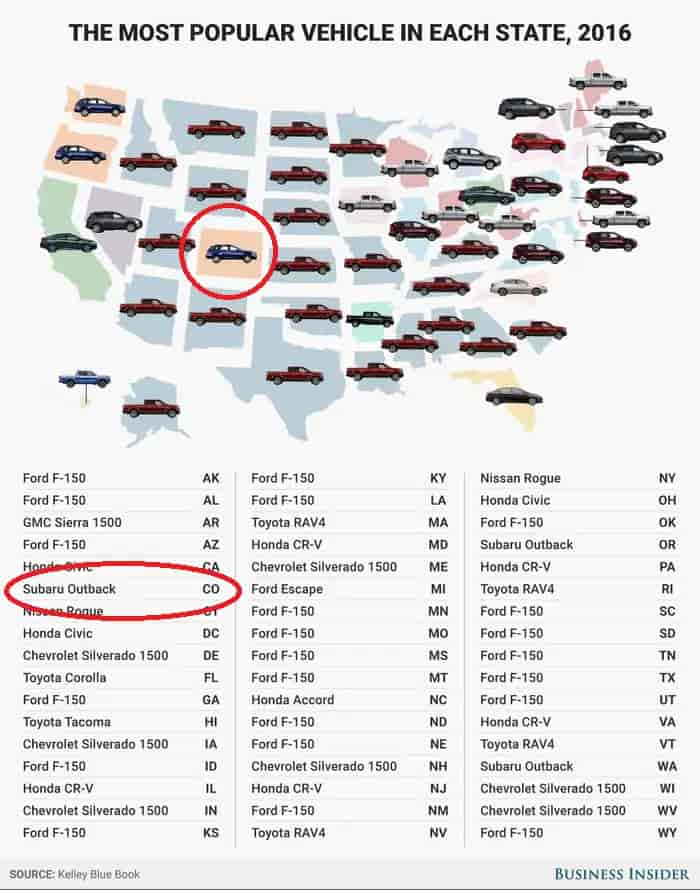 [EXPAND]
Yet, Wallace pushes Honda upon the caller despite Subaru being the better fit for the criteria given by the caller. Could the lack of a Subaru sponsor be the cause of Wallace's omission? Similarly, the outgoing general manager of a Subaru dealership John Ingram also fails to suggest a Subaru. To Wheels co-host David El Attrache's credit, he does mention Subaru, stating it "has a good one too". Ingram quickly stomped out that line of talk by discussing financing.
To conclude, vehicle recommendations on Wheels appear to be restricted to makes for which at least one of its dealers sponsor the show. That was the case with Mercedes. And with Sewell Subaru's sponsorship of Wheels ended and Norm Reeves Subaru's sponsorship of Wheels aborted, that is now the case with Subaru.