Inside Automotive's Lie of Omission: Covenant School Shooter Manifesto Leaked

2023 November 16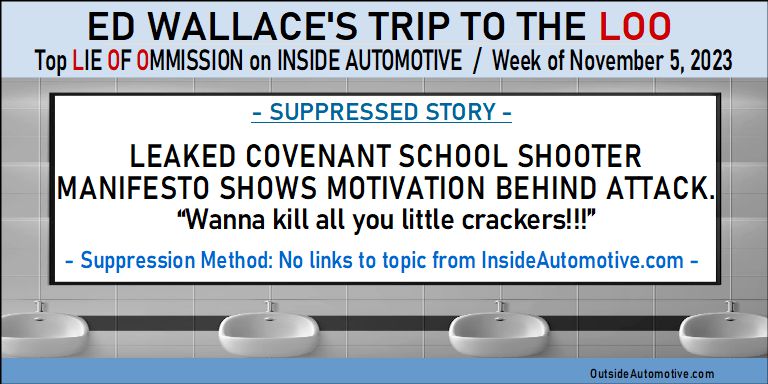 (November 6, 2023) Originally published by Steven Crowder of the Louder with Crowder talk show, images of pages from the manifesto expose the shooter's motivations as being anti-white hate.
ABC 4 WCIV - November 6, 2023
Leaked Nashville shooter manifesto shows motivation behind attack: 'Kill all you little f******'

"Portions of the manifesto belonging to Nashville school shooter Audrey Hale are circulating social media after months of debate regarding its release.
28-year-old Audrey Hale killed six people, including three students, after breaking into The Covenant School in March. Hale, a transgender man who reportedly also went by the name "Aiden," was previously a student at the school."
Reluctantly reported both nationally and locally, the mainstream media quickly pivoted away from the manifesto's contents to the "outrage" that the document was leaked. As for Ed Wallace's Inside Automotive, no link was ever published to an article about the manifest's leak and its contents.
In prior instances where a shooter left a manifesto, Ed Wallace does link to articles detailing its contents. For example, in the November 24, 2022 edition of Inside Automotive, Wallace links to an article titled Walmart Manager Who Killed 6 Had a Manifesto on His Phone.
At this point, one might ask why a link to the Covenant School shooter's manifesto leak never appears on Ed Wallace's news aggregation website. One could speculate that a transgender man killing white children is not a narrative useful for Wallace in his repeated defenses of "critical race theory" and "disrupt whiteness" agendas being foisted into the classrooms. In fact, it is very harmful to that agenda. And, as such, that news was hidden from the readers of Inside Automotive.
-- Other Top Omissions for the Week of November 5, 2023 --
DATE

TOPIC

2023NOV07

Judge Arthur Engoron, who oversees the New York civil fraud case Donald Trump, published shirtless photos of himself into his school's newsletter, which he edits and publishes. [PM.]

2023NOV07

In Pennsylvania, Votes flipped by ES&S voting machines. [AP]

2023NOV08

Democrat Susanna Gibson, who solicited money for webcam sex acts, loses Virginia race.
[New York Post]
-- Related Stories --
2023 September 27 – Inside Automotive's Lie of Omission: Dallas Area Serial Killer Executed by Cellmate
2023 September 20 – Inside Automotive's Lie of Omission: Democrat Virginia House Candidate Solicited Money for Webcam Sex Acts
2023 September 13 – Inside Automotive's Lie of Omission: No Hate Crime Charges for Alabama Riverboat Brawlers
2021 July 26 – Critical Race Theory Is Taught in Public Schools. Ed Wallace Falsely Claims Otherwise.